Queen of the Oddballs
→ American Bookseller's Association Book Sense Pick Bestseller
→ One of 10 Best Literary Memoirs of 2006 (Borders Books)
→ Lambda Literary Award finalist in two categories—humor and memoir
→ A Target Bookmarked Breakout
→ Featured on Ellen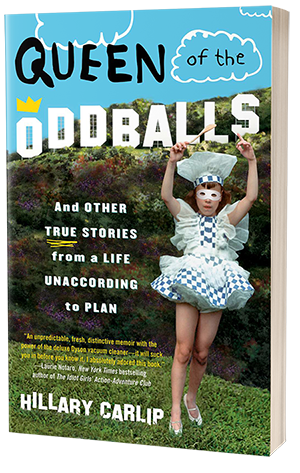 Queen of the Oddballs is a hilariously offbeat memoir about an adventurous young woman's escapades as she defies conventions and transforms an ordinary Los Angeles life into a star-studded, extraordinary miracle of self-discovery.

Queen of the Oddballs: And Other True Stories from a Life Unaccording to Plan forms a chronology of Hillary Carlip's habitual straying from roads more traveled—from a wisecracking third-grader suspended from school for smoking (while imitating Holly Golightly), to a headline-making teen activist, juggler and fire eater, friend (NOT "fan") of Carly Simon and Carole King, grand prize-winning Gong Show contestant, cult rock star, and seeker of spiritual and romantic truths that definitely defy expectations.

Illustrated with ephemera—from diary entries and photographs to a handwritten letter from Carly Simon—Queen of the Oddballs presents a virtual time capsule of pop culture's last four decades and celebrates a creative life lived to the hilt.
To promote the book, Hillary appeared on Ellen for some oddball antics...
The title of the book is based on a chapter of the same name about Hillary's appearance on the Gong Show (she won!)

And in the chapter, Hillary shares about being kissed on the lips by a professed CIA Assassin, Gong Show host and subject of the feature film A Dangerous Mind, Chuck Barris. After the book's release, Hillary received a very special fan letter: